Brunswick Ohio
The largest city in Medina County
Brunswick is part of what was the Connecticut Land Company's Western Reserve. In 1807 the lands of Brunswick Township's 15,922 acres were divided by draft to six individuals and their heirs for a total of $22,087.00 at $1.64 per acre. The first settlers came to this land in the spring of 1815 and the name of Brunswick came randomly in a naming contest.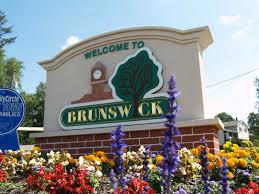 During the 1950s and '60s, the population in Brunswick Township jumped more than 60 percent, the fastest growing township in the state. New residents flocked here and their persistence led to incorporating Brunswick Township to Brunswick Village and then City. Many new residents came here with one goal — to purchase an affordable home.
Brunswick became a city on October 2, 1960, and in 1965, residents celebrated the city's sesquicentennial. Interstate 71 opened, connecting Brunswick with Cleveland in 1974. What was once a quiet farming community has now burgeoned into a lively city, boasting one of the oldest churches in the Western Reserve and Hiram Miller's Underground Railroad station.
Now with convenient highway access to Cleveland and Akron, Hopkins International Airport and the Ohio Turnpike, Brunswick has become a popular destination for prospective homeowners and businesses. The 2008 Family Circle 10 Best Towns for Families Award indicates a city with great pride, spirit and community support.
Brunswick has a Council-Manager form of government, where the council is the governing body of the city elected by the public, and the city manager is hired by council to carry out the policies it establishes. In Brunswick, the council consists of seven members plus a mayor. The Vice Mayor/President of Council is selected by the council as defined in the city charter. The size of the council is generally smaller than that of a mayor-council municipality, and council elections are nonpartisan.