As an active Chamber member, you can take advantage of special pricing to save your company money on group health insurance.

Group Health Insurance – Chamber Saver Program
Full range of health insurance plans with cost savings. Businesses also get access to a large network of quality providers through Anthem, an independent licensee of the Blue Cross and Blue Shield Association. Premium savings of up to 1.4% on groups from 2-50 employees. Groups from 51-500 may be eligible for a 1% premium savings. Business must be a member of an NMCCA Chamber member. For a quote, contact your local broker or NMCCA.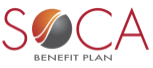 Group Health Insurance – SOCA Benefit Plan (MEWA)
The SOCA Benefit Plan MEWA, administered by Anthem, is a smart solution for groups with 50 or fewer employees and sole proprietors. It allows smaller employers to join together to share in the overall claims risk, backed by Anthem stop loss coverage. Business must be a member of an NMCCA Chamber member. For a quote, contact your local broker or NMCCA.
2023 Anthem MEWA Info Sheet
2023 Anthem MEWA Sole Prop Flier
Medina County Fiber Network
Medina County Fiber Network is a community based, high speed fiber network, available only to businesses and organizations in Medina County. As an open-architecture network, telecommunication carriers are invited to connect their networks into MCFN, bringing internet, voice, network management, off-site hosting and data services to you at a considerably lower price.

Manage your utility needs while reducing costs and mitigating risks.
Chamber Energy Program
Community Energy Advisors (CEA) is a Public Utilities Commission of Ohio (PUCO) certified energy management firm that educates and empowers organizations to maximize the economics of their energy assets. By staying one step ahead of changes in the energy industry and utilizing analytics, advanced tariff modeling and reporting, CEA delivers a multitude of energy management solutions that positively impact customers' utility bill costs. Business must be a member of a NOACC Chamber. For a free quote, visit ceateam.com/chamber.

Workers Compensation/ Sedgwick
Workers' Compensation Group Rating Programs with Sedgwick, are designed to provide savings and ongoing consultative services related to your workers' compensation program. Its benefits include: Expert claims management, Hearing representation, Safety Education and Advocacy.
www.sedgwick.com/ac3/northernmedina